TOTW: S21 | Super ProLeague | Matchdays 5 - 8
Veröffentlicht am 01.Aug.2020
-
TOTM

von Fredchen777
-
352 mal gelesen
To honour special performances in the SPL we will post regularly a Team of The Week. The players chosen will be based on the match days of that week (weeks 3 and 4).
How is the OVR determined?
What is the new TOTW system? [GER]
---
---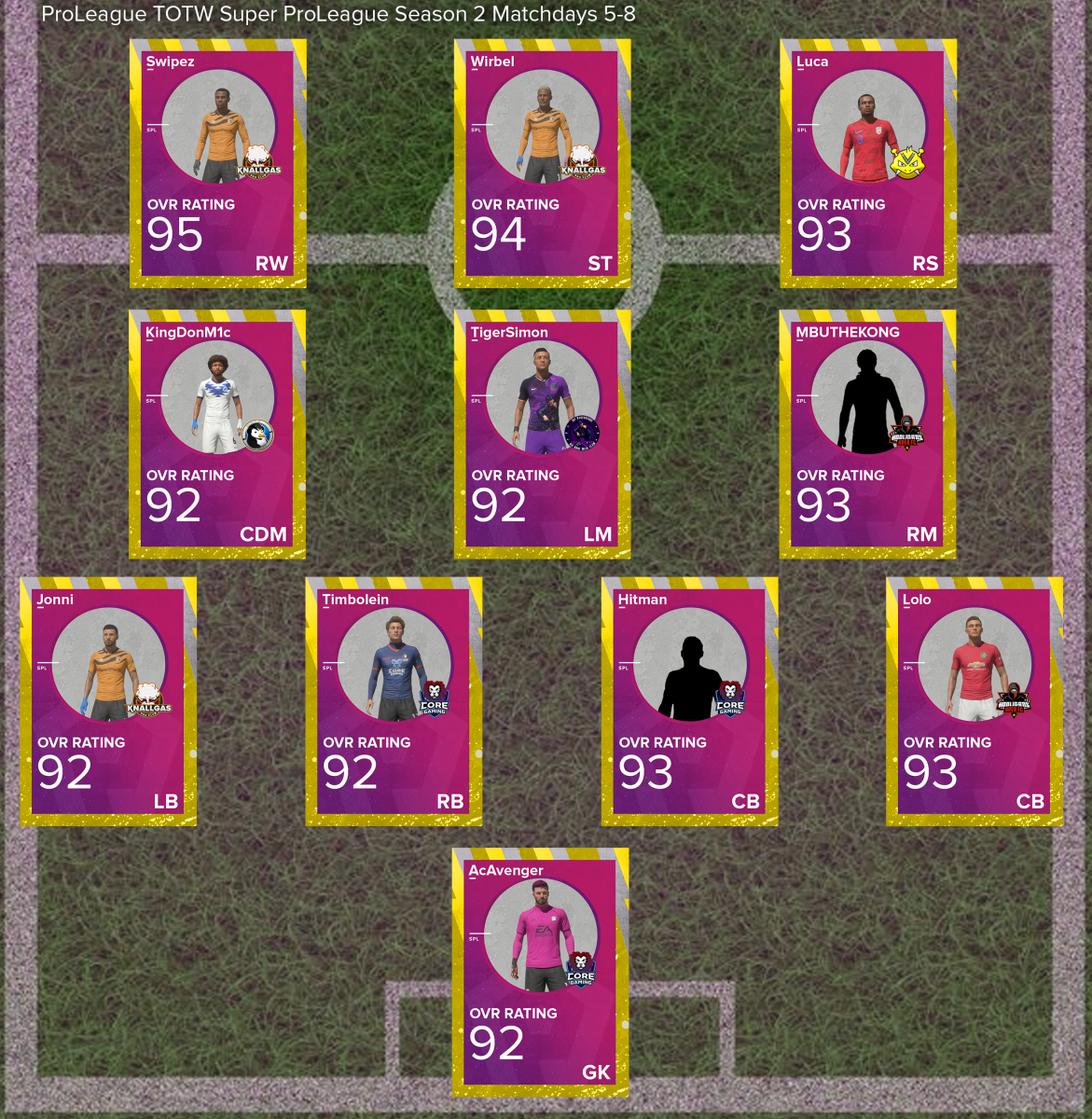 ---
---
TOTW S21 Weeks 3 & 4
Goalkeeper
Probably one of the most outstanding performances of this week led to the top spot in Group A. Direct threats Never Enough and RoXoR eSports could not get passed the brick wall in the Core Gaming goal, CG-AcAvenger. As well against Hooligans Area FC (2-1 win), the German goalkeeper stood his guard and led his team to yet another win.
Wing Backs
Two times H2-Jonni had to play and two times no goal was conceded. This was mainly due the strong defensive performance by the experienced German who stood his guard on the wing-back, a position overlooked by many. Versatile in defence, being able to play on all four position, H2-Jonni has only conceded four goals in just eight games.
Just as his goalkeeper, Timbolein, was able to keep his net cleans thrice. This absolute stunning performance has been paid of with seven points and the top spot claimed in Group A, where everything still seems possible.
Centre Backs
Firmly standing on the second spot in Group A, is Hooligans Area FC (I swear to God I tend to write Hooligans Arena FC). This is mainly thanks to the outstanding performance by their centre-back, HA-Lolo. The French defender kept three clean sheets in just seven games in addition to an MVP title and an assist against RoXoR eSports in a group which is considered to be one of the toughest this week.
The absolute MVP of this week at Core Gaming's side must be CG-Hitman. The German earned two MVPs aside his three clean sheets by showing to the world an outstanding performance in every game. All three direct competitors were beaten in style and two times no goals were conceded.
Midfielders
KingDonM1c received an MVP against DeathRowArmy, possibly the strongest competitor in both SPL Group B and League ONE. He also helped secure the clean sheets against No Mercy and Bad Touch, while scoring against the International team himself.

No Mercy also took a pounding by 187 Rasenbande and especially by TigerSimon. Even though they managed to create a lead in the first minute of the match, TigerSimon scored twice before the 10 minute mark and once more in the second leg to not only turn the score around but also crush the Turkish hopes for three points.

Three goals by HA-MBUTHEKONG were needed to bring both Renaissance and Devil eSport to their knees. Two of those goals came in their much needed 3-0 win over Devil eSport, making his Turkish side almost sure of qualification for the knockout phaces.
Forwards
The MVP for H2 so far this SPL-season must be Swipez. Eight goals, six assists of which three and four came from this week alone. Putting his side comfortably passed Kone Gamng (7-0) and Unshackled (5-0), a much harder battle followed against FC Inter Berlin (2-1), in which the German winger gave their rivals the decisive blow in the 45th minute.
There is no limit on Knallgas this season in SPL, and with this comes a high scoring striker carrying the name H2-Wirbel. Yet again the German scored three goals, gave four assists and earned two MVPs in what could be considered a record breaking week with a total of fourteen goals scored and only one conceded.
VOLT-Luca might currently be playing in League TWO, but his team is showing that they can't be underestimated: He single handedly beat the current third place in INT1 Ragnarök FC with two goals and in the next match he set up both goals against the Polish Provocateurs.
---
Honorable mentions: The bench

---
2 Kommentare
01.08.2020 um 16:00
---
---