ProLeague CUP - Updates & Timetable
Veröffentlicht am 24.Jan.2023
-
ProLeague PC

von Dukesity_GER1
-
1716 mal gelesen
Dear community and mostly ProLeague CUP participants,
Hereby I will give an update about the ProLeague CUP. If you didn't read the rules, make sure you check them on this article at the bottom by clicking the plus icon.

Updates
Contactpersons:
Olli / Origin-ID: H2-Olli82 / Discord: Olli82#4591 and Dukesity_GER1 / Origin-ID: Dukesity / Discord: Dukesity#7220
If you have any question about the ProLeague CUP you can contact them.
Scheduling Matches:
Schedule the match with your opponent, deadline for scheduling is till the last Thursday before the deadline (Sunday). If you did not schedule the game before the deadline - we will schedule the game. This means that you have time to schedule the game till the end of Thursday, but you need to play the game before the end of Sunday.
Live Draws:
We will broadcast a draw on our Twitch channel for everyone to see. Of course we will try to announce this so you can witness the draw. If you missed it, in this article we will share the latest draw.
Timetable & Stages:
As you can see below these are the different rounds and the information with every round.
Due to some teams dropping out or not applying correctly. Some teams that were initially knocked-out in the first round will be allowed back in. We decided this because there otherwise would be 3 default games in round 2.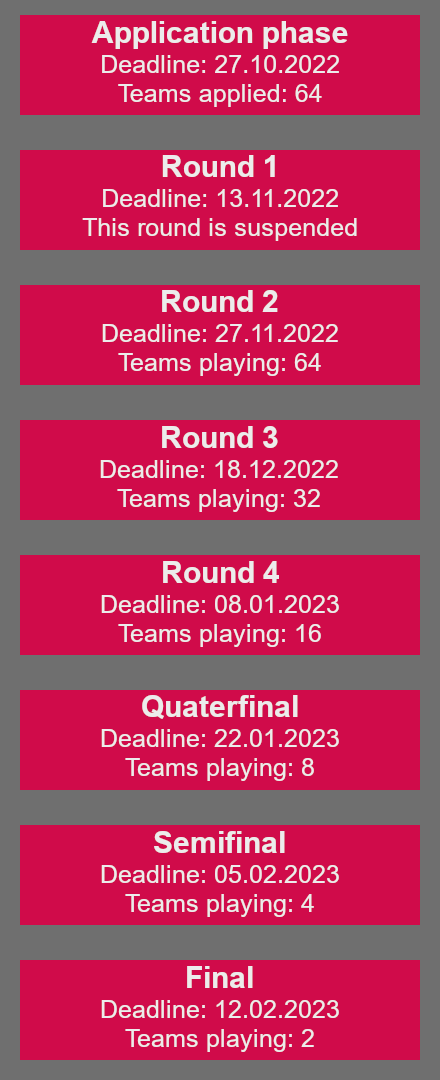 Draw
Latest draw :
Round Of 64:
Round Of 32:
Round Of 16:
Quarterfinals:
Semifinals:
With the Grand Final of the ProLeague CUP we reach the last 2 Matches for this season.
Below you can find the graphics for the Final aswell for the match about 3rd Place.
---
4 Kommentare
24.01.2023 um 19:00
---
---